Marc-Alexandre Emond-Boisjoly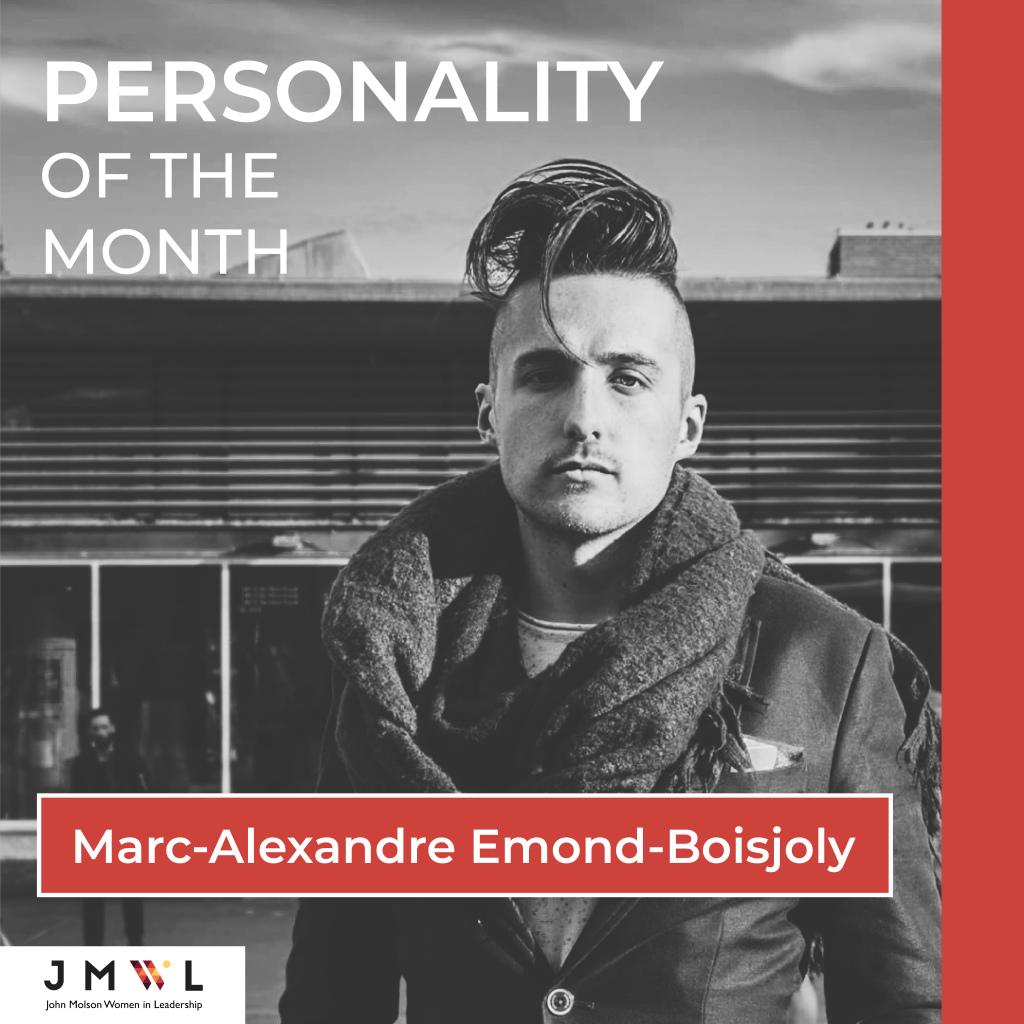 Welcome to our last #PersonalityOfTheMonth of the 2018-2019 academic year! We are thrilled to end our successful campaign with Marc-Alexandre Emond-Boisjoly, an inspiring business leader from Montreal and activist for gender equality.
After finishing his master's degree in Pharmacology, Marc-Alexandre directed his focus towards actively helping the community through his passion for food. This led him to start 94 Celcius; a coffee roasting company that aims to help small producers strive.
Marc-Alexandre realized that one of the major problems women face in certain coffee harvesting countries is the lack of resources for them to start their own company. Wanting to shed light on women producers and empower other young women to start a career in the coffee industry, he developed an initiative called "Femmes Productrices". Every few months, he collaborates with a female farmer and helps her farming business become financially sustainable. In their first 18 months of business, 94 Celcius has worked with six women from different countries and this is just the beginning, according to Marc-Alexandre!
Recently, 94 Celcius had the pleasure of working with a woman from Costa Rica, Francisca Chacon, who runs the Las Lajas farm. Francisca's husband, Oscar, inherited the farm from his father at the age of eighteen. After Francisca finished her studies in agronomy, she decided to quit her job working for the government to focus on their coffee production business. Unfortunately, in 2008, Costa Rica was struck by a devastating earthquake and the farm lost access to water and electricity - crucial elements for fermentation and washing in coffee production.
This obstacle did not stop Francisca and she worked extremely hard to find ways to save her harvest. She studied a production technique used in Africa to dry the coffee beans inside their fruits without using water. Using this technique, she successfully made amazing coffee despite the circumstances. Her coffee production is not only delicious, but also certified organic. Francisca's dedication, meticulous work, and passion for coffee has allowed her to shine and become an inspiration for women in her community.
Enjoy Francisca's delicious and unique coffee here: https://94celcius.com/collections/frontpage/products/costa-rica-francisca-chacon-x-th3rd-wave?variant=21863784513615
Thank you, Marc-Alexandre, for creating a business that actively empowers women across the world! Your company's mission and values are inspiring and are truly making a difference.
Learn more about 94 Celcius here and explore their tasty products: https://94celcius.com