Let's Get Quizzical – Testimonies
Join us via Zoom on Thursday September 23rd at 5:00pm (EDT) for a fun virtual trivia night centered around women history!
This event is perfect if you want to get to know JWML and what we stand for! Get ready to test your knowledge around women history in different industries whether it's in sports, cinema, business and so on! Did we also forget to mention that the winner gets a prize?
I really enjoyed JMWL's first event of the year! The virtual trivia night centered on women's history was both entertaining and educational. Covering a variety of topics ranging from politics to science, attendees certainly walked away with an enlightening fact to share with their family and friends – I know I did! Further, the JMWL team did an amazing job at creating a welcoming atmosphere for its audience. I am definitely looking forward to future events.
Negotiate to Level Up – Testimonies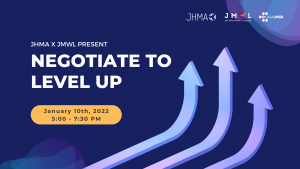 Do you need advice on how to negotiate your salary? 💵
Are you graduating soon or looking for an internship and don't know what an appropriate salary is when starting a new job? 👨‍🎓🔍
Come join JMWL & JHMA on January 10th for this FREE event, hosted through Zoom.
Start the year 2022 strong with full knowledge on how to negotiate your salary. Come learn about what to keep in mind while negotiating, how to communicate in the office & more! 🧠
This event was extremely informative for any undergraduate student or recent grad who was looking for more information on the topic of job negotiations, which can often be daunting – even for those who have prior experience negotiating their salary! I appreciated the Q&A portions of the event where attendees were able to ask specific questions on salary and compensation to the guest speakers, Bob and Liz. Both speakers provided honest and insightful advice with multiple example scenarios that job-
seeking graduates, or students looking for their next internship, can apply in future job negotiations.
Own Your Success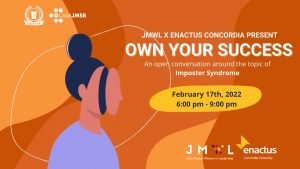 Join us on Thursday, February 17th for a FREE event of JMWL x Enactus Concordia!
WHAT? A panel session on the topic of imposter syndrome, a workshop on entrepreneurship AND a networking session!
WHEN? Thursday, February 17th form 6:00-9:00 pm
WHERE? Online
This event will include a panel session centered around the topic of Imposter Syndrome followed by a networking session.
It will also include a workshop offered by Front Row Ventures on the topic of entrepreneurship.
JMWL and Enactus' "Own Your Success" event was a great learning experience for me. The event started out with a presentation from Front Row Ventures, which was interesting. However, the part that I enjoyed the most was the panel discussion between the three business professionals: Benedicte Guerin, Archontia Tsiampali, and Judith St-Pierre, during the second half of the event on imposter syndrome. To hear the experiences of three women who have experienced imposter syndrome was very reassuring to me as a woman pursuing a career in business. The discussion was very candid, and they provided helpful and inspirational advice, which I hope to heed in the future!
The LEAD Conference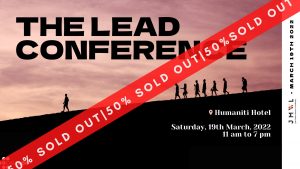 Are you looking to expand your network and make new connections in your field? Want to learn more about your major?
If you answered YES to either questions, you're in luck!
JMWL is happy to host our in-person flagship event "The LEAD Conference" this March 19th, from 11AM-7PM! 
Get ready to network with top companies and mentors while learning about different issues surrounding the monopolization of leadership positions through their success stories.
JMWL did not disappoint with the LEAD conference! This event intended to help students learn more about leadership and navigating their careers, and it did just that through panel sessions with guest speakers, the mentorship lunch, and a networking cocktail. It was a great opportunity for students to connect with industry professionals as well as their peers. Many attendees that I spoke with at the end of the conference said they were left feeling inspired by the discussions that took place throughout the day. I'm definitely looking forward to next year!